OK I'm going to say…..Frank Skinner is my new hero!
Well Doctor Who has always been my hero but he has serious competition right now.
By not only being a charming and witty host, Mr Skinners passion and knowledge of Who really came to the fore.
What other TV host else would quip after Peter Calapdi's revelation that he had turned down the chance of auditioning for the 1996 Paul McGann movie'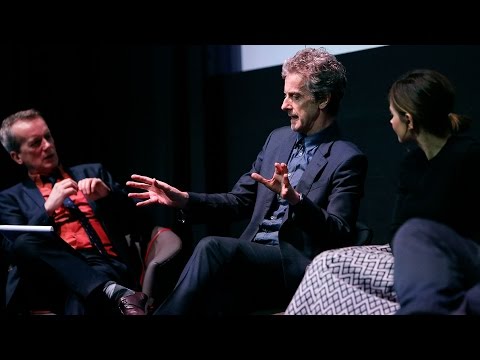 …'Imagine all the Big Finish's you would have done by now'
delicious and hilarious which sums up my day very well…..
cue titles and run VT
dum dee dum… dum dee dum….
BUNNY GALORE AND THE MONDASIAN CYBERMEN
Well gentle reader I was lucky enough to attend the Doctor Who Series 8 DVD launch in sunny Soho at the Ham Yard Hotel which is a gorgeous new boutique hotel newly built next to the Piccadilly Theatre.
Now this completely throws me because when I was last working at The Piccadilly a couple of years ago this was just a large Quatermass and the Pitt hole in the ground!
The Hotel has a beautiful cinema down in the basement (surely we must have been on tube line level) decorated with blue walls and bright orange cinema chairs, it really feels like 1968 Barbarella in there!!
First off we were treated to a show on the Big Screen of EARTH CONQUEST a 46 min documentary on the world tour of Doctor Who to promote series 8 which is one of the extras on the DVD box set.
This wonderful travelog is also a look at fandom and the creativity of the fans. The new title sequence being made by Billy Hanshaw on youtube being the most famous example.
And its true! Doctor Who has inspired us all, it has made it into our DNA somehow. On all sorts of different levels, who at the very least hasn't drawn a police box or dalek in a school book let alone written fan fiction or made a website.
Its inspired me to get into the business… act, direct, make special effects etc. My new tv show Hotel Cinematic for Latest TV channel is set in a hotel set adrift in the space, typing this has made me realise where that idea probably came from….. that little blue box traveling through the stars.
After the great documentary (worth the dvd price alone) and a little break. Mr Frank Skinner took too the stage and to be honest had me at the first joke about a certain golden arrow.
He then introduced what he called 'dream guests' for such an event, as Peter Capaldi, Jemma Colman, Samuel Anderson, Michelle Gomez and Steven Moffat took to the stage
What a glorious line up and the crowd adored them. Many stories flowed and Frank Skinner asking with a twinkle all the right questions including ones only the knowledge of forums and fan websites can bring. At one point asking Steven Moffat about the weight of history of the show and the responsibility of writing it which also had the words 'CyberBrig' in there ….well I swear I could hear a pin drop for half a second.
The answer was completely perfect and right 'its like being the keeper of the crown jewels' however you have to 'treat it like you own it'
Now the whole thing was people filmed and I'm sure will be available at some point ( I do hope so as I really want to see it again) so I'll just tell you some of my favorite bits.
Asked what city on the world tour had the greatest response, Jemma answered the airport in Korea which when watching Earth Conquest is certainly true!
When talking of his time in the cybersuit Samuel Jackson revealed it really is as uncomfortable as it looks! Plus the cyberman suit have been sculptured on a guy that was left handed and that persons right arm would be less developed than the left naturally. Meaning everyone right handed wearing it started to get a dead right arm after while because its tighter! Although he suffered for his art these stories were told with a boyish glee,so I think he had great fun doing it all.
It was wonderful to have Michelle there and she revealed her intricate way of approaching the role of the Master was 'turn up and say the words'. Hilarious and glorious as one would hope, and herself and her family are fans of the show. She also confirmed she would NOT be back for series 9……….. and by confirmed I mean take that as totally reverse reverse psychology. Bamboozled…? …good!  I for one would love to see her again and in a shorter skirt as she really has fabulous legs !
A short clip form the graveyard scene featuring the Doctors great speech and Danny's hero moment was shown as it features all the actors on the stage and I loved Peter Capaldi's reaction to seeing it, full of wonder at where would get all that in one scene saying 'Sad…funny….cybermen….Missy…..jenna…..space…laughs…adventure' and saying he felt 'Proud and Privileged'
fun facts and points answered and cleared up and not
It is Clara's hand that comes through the painting not Missy (not a clue what that means)
It's really mine! A bemused Jenna implored!
Frank thinks Peter and Jenna have a Mork and Mindy vibe (I roared at this and would add the Sheldon Cooper vibe too) and that Doctor Who is now a Scottish show filmed in Wales.
And he when Frank asked 'there's a theory that the Osgood Character was actually the Zygon version'
'Is there any internet forum you're not on?' Steven replied 'before you did this panel you were a cool comedian'
to which Frank replied hilariously.
'I was never a cool comedian!…and I have a theory that she (Osgood) would get a spin off show called MISS ZYGON!
Genius!
The Co writer credits for Moffat were also cleared up with Steven saying it was do with the change of style of scripting of series 8 and moving away from the very fast style of Matt Smith era and its hard to change course after asking people to write in a certain way for a time .
Now dear reader I think my favorite moment of the day (if not the year) was when seeing the carnage after Frank asked 'is was true Peter wanted to bring back the Mondasian Cybermen'
Much debate ensued between Peter and Steven about the original series cybermen and the alternative universe cybermen and the latest ones. Steven fearing 'no girls will ever talk to us again' .
All I think because Peter would love to say 'Mondasian Cybermen' and like Tom Baker and certain phases, he has a great way of saying it.
He also pointed out that 'I am also surprised that the monster are always up to date….in Genesis of the Daleks …technically really those Daleks were not the proper models'  to much laughter and applause!
Steven refereed to the slates were round the middle and that they could suddenly leave they're city as they were the static electricity ones. But of course that was probably because the designs had been updated as time went by and quipped an exclusive
'You heard it here first the Krotons are on their way back!'
All in all a divine treat of a day and perfect end to all the my birthday adventures I had been having over the weekend.
Thank you to BBC Worldwide for arranging such a amazing event with such amazing special guests and everyone working hard to make it so smooth and thank you Eddie for letting me cover the it.